Ready for Monday like this Gif of Lindsay Lohan Yaaassss
Hello Gorgeous!!!
It's another week already and another blog <3 I am swiftly approaching our 2 year Blog Anniversary (Blogiversary lol) in like 2 weeks time. Number One where has the time gone? and number Two it's been an awesome adventure full of fashion, life and craziness!! It feels great to have started the blog and to be here to celebrate it's Anniversary! Yay! Oh Happy Days!

Well we are better organised this week :0) Thank Goodness! The wee man but very big man over 5ft of him lol now turned 11 and he had a ball! He went to Tayto Park and was on roller coasters and was wall climbing :0) Followed by pizza, cookies and movie time <3 He is getting so very big! It's just like I blinked my eyes and he grew up over night.

So has anyone else been watching Game Of Thrones? It's pretty awesome! So I hope you all have a great week and have loads of fun!

Peace & Love

Jane

xoxo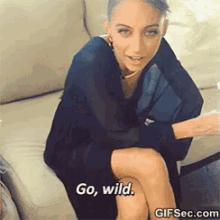 Advise noted <3 This Monday Go, Wild.